Coach Uttley enters his 6th year as a teacher and coach at NWSS, and his 5th season in the defensive coordinators role. Prior to joining the Hyacks program, he spent 16 years as a university coach, most recently as the Head Coach at McGill University for 3 seasons (2012-14). Uttley spent 7 years total at McGill, following stops at Acadia and UBC where he held defensive and special teams coordinator roles. Utley has also been a guest coach at training camps with several teams in the CFL, most notably the Toronto Argonauts (2003, 2005 and 2008) and Calgary Stampeders (2011). He played collegiately at Acadia (1996 to 2000) where he was a four-year starter and team captain in his final two seasons. He graduated with a bachelor of arts in 2000, followed by an education degree (2004) and a master's degree in education (2011). Clint lives in White Rock with his wife Katie.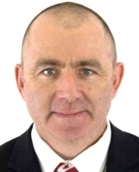 Coach "Mac" is entering his 28th year of coaching, his 18th at NWSS. In 2012, he took over as Offensive Coordinator. His first ten years were spent as an assistant at Burnaby Central, including three years as offensive co-ordinator. He is an NCCP Level II certified coach, and played football at Burnaby Central and with the Vancouver Trojans (BCFC). McKechnie has a Bachelor of Technology degree from BCIT and is currently employed as a database analyst for Trapeeze Software. He and his daughter Olivia live in Coquitlam.
Coach Sikorski begins his 11th full season of coaching, his 6th as JV Head Coach, after guiding the JV's to the Provincial Championship in 2015. He is also runs the very successful summer conditioning program for the Hyacks. Sikorski spent the 2009 season playing LB at UBC after spending a season as an RB in the BCFC. Sikorski played at NWSS in 2006 and 2007. He had an outstanding senior season, earning Provincial all-star honors at LB and being named Defensive Player of the Year in the AAA Western Conference. Darnell is now a personal trainer and lives in New Westminster.

Coach Senuik enters his 5th season of coaching and takes over the JV Defensive Coordinators role. Prior to joining the NWSS staff, he spent 4 seasons as a player at UBC, culminating with the 2015 Vanier Cup Championship. Coach Senuik also played 3 years of Jr football with the Edmonton Wildcats, and played at Bev Facey HS in Alberta, leading his team to the provincial final in grade 11 & 12. He was also captain for Team Alberta earning a silver medal in the Canada Cup. Adam is a realtor with Garbutt Dumas Realty in New Westminster.
Coaches Golimbonis is part of the growing list of coaches who are former Hyack players giving back to the program. He graduated from NWSS in 2009 and is now in his 6th year of coaching at NWSS. Prior to that he was coaching in the Royal City Hyacks youth program and played instrumental role in the success of the Jr Bantam team. Coach Dim is currently employed in the restaurant industry and lives in New Westminster.